EDITION #1
Ginger & Smart launches Edition #1, a capsule collection of luxury & sustainable work & wardrobe essentials.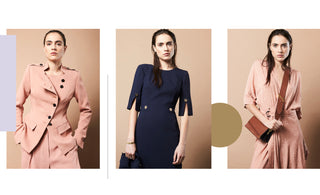 Ginger & Smart launches a capsule collection of luxury & sustainable work & wardrobe essentials. 
These thoughtfully edited pieces are designed to cohesively underpin your modern life and provide a basis for you to build your conscious, contemporary wardrobe.
Edition #1 capsule encompasses minimalistic pieces in collection best-selling styles, redefined in 2 colour ways, ginger or navy. The entire collection is crafted from fabric sourced from renewable resources using Forest Stewardship Certified Viscose and is made in ethically audited factories. 
"A wardrobe built on a streamlined selection of items makes day-to-day dressing infinitely easier. The Edition #1 collection is high-quality, versatile and timeless yet modern, making each piece ideal for your work life. We want our Ginger & Smart community to feel confident in their styling choices for every aspect of their lives. Building a sustainable working wardrobe is an important part of this." Genevieve Smart, Creative Director.
From the essential statement military style double breasted jacket, to the versatile wrap dress, ultra-comfortable pants, a sleek pencil skirt, or a slimline tailored dress, each piece of this capsule collection has been thoughtfully designed to be styled and layered effortlessly.
"Curating a wardrobe that speaks to your personality, style and career goals is part of the partnership we love to take with our customers. Edition #1 introduces timeless looks, infused with a modern aesthetic, that you can then build your wardrobe upon." Alexandra Smart, Managing Director.
Sustainability and ethical practices have been embedded in the GINGER & SMART brand from its inception in 2002. Ginger & Smart's sustainable purpose is to create beautifully considered timeless pieces, designed to be worn many times and with a low impact on our global environment. In keeping with this original, important brand value, all Edition #1 fabrics are sustainably sourced.
The viscose is sourced from Forest Stewardship Council (FSC) certified renewable forests. FSC supports responsible forestry by addressing issues such as illegal logging, deforestation and global warming. All fabrics in the collection have undergone testing according to the OEKO-TEX 100 STANDARD, confirming no chemicals harmful to human health and the environment have been used.