A MOTHER'S LOVE
To celebrate Mother's Day this year, we chat to GINGER & SMART co-founders' Alexandra + Genevieve Smart...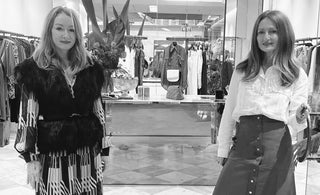 To celebrate Mother's Day this year, we chat to GINGER & SMART co-founders' Alexandra + Genevieve Smart to learn more about their love of motherhood and precious memories of their own mother, Ingrid. 
How will you be spending Mother's Day this year?
AS: This Mother's Day I'm hoping to convince my kids to do a long walk around North Head. No devices. That will be a gift in itself.
GS: I'm happiest with a simple Mother's Day. I hope to spend this year somewhere in nature with my kids and husband, doing as little as possible.
Favourite memory of your mum?
AS: My favourite memory of my mum is a weekend trip we took to Pearl Beach just as I was waiting to give birth to my son Marley (now 12) and 6 months before she passed away. She was already quite sick, but she told hysterical jokes all weekend. I just remember crying with laughter. She was irreverent and fun and a great story teller.
GS: My Mum had a wicked sense of humour. Once she got the giggles, it was all over. I loved it when she laughed, it was always infectious.
What is the best piece of style advice that your mum passed on to you?
AS: I don't remember any direct advice, but I think she inspired creativity in all of us and therefore gave us confidence to grow our individual style. She didn't judge or comment on whatever stage we were going through and that meant we could just be ourselves. That's a gift I think.
GS: Mum appreciated the luxury of beautiful fabrics and passed this love on to me. The meticulous way she layered her looks in tone and texture, from shoes to earrings was always a lesson in style to me as a young girl.
Did your mum inspire you both to create GINGER & SMART?
Our Mum always inspired us to be independent women and gave us a great work ethic. She saw how hard we worked in our careers pre GINGER & SMART and encouraged us to pour that same energy into our own business. She was always our strongest supporter in the early days.
How do you balance motherhood with your career?
AS: The juggle is real. And it's not easy for women who wear multiple hats with minimum support.
I don't think I have the answer but I am grateful to have my kids and to be a close participant in their lives, and also a career.
GS: I still don't have much balance after all these years. I try to follow the simple rule that when I'm at work, I give work everything and when I'm with the kids, they have all of me. When I try to juggle both at once, it's a fail for everyone.
Best thing about being a mum?
AS: For me the best thing about being a mum is the desire to connect deeply, and the unconditional love that you feel for your children. It's so innate and passionate. Sometimes, actually often, not demonstrably reciprocated, but always implicit.
GS: The unconditional love I feel as a Mum is still breathtaking to me. Coming home to my children's hugs is always the best part of my day.
What is on your Mother's Day wish list?
AS: Just time with my kids. Although if they cook me breakfast and clean up I'll be wrapt.
GS: I'm always given a cashmere sweater on Mother's Day and am hoping the tradition continues this year.