DAVID JONES S20 CAMPAIGN
Ginger & Smart features in the new David Jones campaign… THE HOME OF AUSTRALIAN FASHION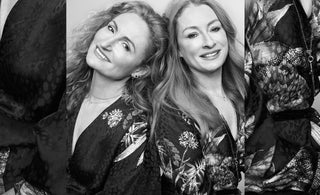 Ginger & Smart features in the new David Jones campaign… THE HOME OF AUSTRALIAN FASHION
For over 180 years, David Jones has curated the best in Australian fashion.  From established icons to fresh new talent, this season David Jones celebrates the joy, creativity and individuality of our local designer community in an exclusive campaign featuring Alexandra + Genevieve Smart.
"We're really honoured to be part of this campaign which shines light on the talent in this country. And we are so proud of our long-standing association with David Jones since 2006.
There is a raw sense of truth and beauty about Australian fashion, that is captivating to the rest of the world.

Australian designers have harnessed the strength of looking to our own unique culture and natural landscape for creative influence, and the industry is a reflection of the talent we have in this country.

Supporting and helping each other in tough times is a mark of the personalities and people involved in the Australian Fashion industry.

We are so grateful that our customers continue to embrace our brand vision. And also continue their conscious response to sustainable fashion options."
@davidjonesstore #HomeOfAustralianFashion