FLORAL CHARTS FACE MASK
GINGER & SMART launches upcycled, sustainable & reusable face mask.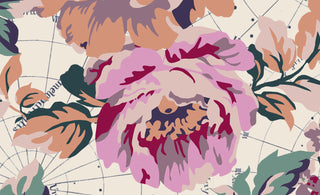 GINGER & SMART LAUNCHES UPCYCLED, SUSTAINABLE, REUSABLE FACE MASK
With the outbreak of the COVID-19 pandemic, sisters Alexandra and Genevieve Smart felt they needed to do more to help support their community. A brand imbued with social responsibility, in a statement on the closure of the GINGER & SMART boutiques in late March, they said,
"Creativity to us is a symbol of hope for humanity and so we continue to create beauty in our atelier for you to enjoy when the time comes."
Today GINGER & SMART launches the Floral Charts Face Mask, and will be donating
25% of the RRP to the Sydney Women's Fund
, a charity that has become close to their hearts and supports vulnerable women in Sydney. In addition, GINGER & SMART will be donating masks to the Royal Hospital for Women as a gift for expecting mothers. "Staying safe and giving back to those in need is the main objective in creating these masks," says Alexandra Smart, Managing Director of GINGER & SMART. 
To help support the community limit the spread of COVID-19, Alexandra and Genevieve have designed the Floral Charts Face Mask in a signature print from the brand's Winter Collection. The Floral Charts Face Mask is crafted from upcycled sustainably sourced silk viscose jacquard and is washable, adjustable and reusable. Each mask includes two disposable filters that can be inserted between the two layers of fabric. The PM 2.5 replaceable cloth filters work as a daily protection by filtering particles with a diameter of 2.5 micrometres or less.
Face marks are likely to become a regular feature of daily life in Australia as we approach Winter. "Fashionable face masks are going to be part of the new normality for some time," says Genevieve Smart, Creative Director, GINGER & SMART.
Perfect for Mother's Day, the GINGER & SMART Floral Charts Face Mask is available to purchase for $25 here.